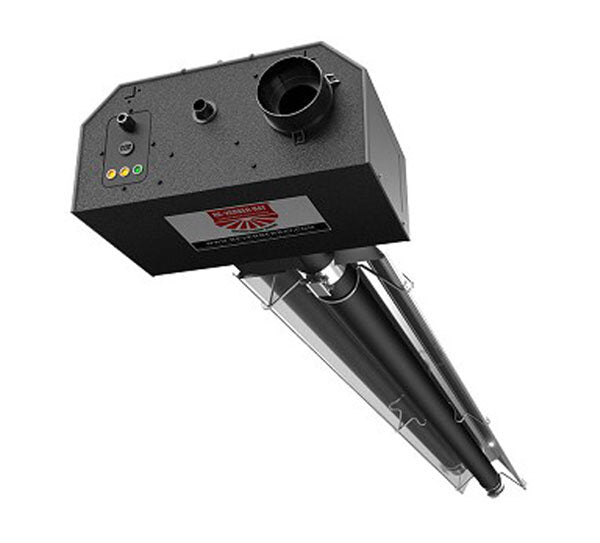 Re-Verber-Ray DET3-40-75, Gas-Fired Low Intensity Tube Heater 75,000 BTU; Two Stage
Re-Verber-Ray DET3-40-75 Low Intensity Tube Heater
Input Range: 75,000 BTU/h
Electrical: 120V, 60 Hz. 24V 
Lengths  41'-1"
Gas Type: Natural or Propane
Two-stage gas valve (at 100% and 65%)

Product Series: Economical
Combustion Chamber: 4" Titanium Stabilized or Aluminized Steel
Limited Warranty: 1 year - Burner box components; 5 years - Combustion and radiant tubes; 10 years - Burner
Certification: CSA, IAS, Indoor, Outdoor
PRODUCT INFO
Streamlined for economy and designed without sacrificing performance, the DET3 Series is a quality, energy efficient infrared heater at a more economical price. Our patented two stage technology, incorporated into the DET3 Series, provides more comfort while saving valuable energy dollars. Utilizing a direct spark ignition system and hot-rolled steel emitter tubes, this series is the best in this class of equipment.
Product Features
Input Range: 50,000 to 75,000 BTU/h
Gas Type: Natural (3.5" W.C.) or Propane (10.0" W.C.)
Gas Connection: 7/8" flare-M FPT Connection to 1/2" x 24"(304) SS flex connector provided
Electrical: 120V, 60 Hz. 24V
Control Amps: 1.7 Starting, 1.1 Running
Radiant Tubes: Hot-Rolled Steel
Patented two-stage operation
Pre-purge controls.
Reflector
Highly polished aluminum.
Continuous overlap design.
One reflector center support per heater.
Benefits Of Heating With Infared
Superior Comfort
Indoor Air Quality
Reduced Energy Consumption
Flexibility
Durability
Radiant Efficiency

SPECIFICATIONS


DET3-40-75






Gas Type


Natural or Propane


Electrical


120V, 60 Hz. 24V


Control Amps


1.7 Starting, 1.1 Running



High Fire


75000 BTU/h


Low Fire


50000 BTU/h


Weight (lbs)


190


Straight Length


41'- 1"


U-Tube Length


22'- 9"



Clearance to Combustibles



Front: 9"




Behind: 9"




Top: 6"




Below: 60"


Recommended Mounting Heights and Coverages


Recommended Mounting Height


12' - 20'



Coverage Area Straight Config.


44' x 21'


Coverage Area U-Tube Config.



23' x 17'



Distance Between Heaters (ft.)


20' - 30'



Distance Between Heater Rows (ft.)


30' - 50'



Max. Distance Between Heaters and Wall (ft.)


20'