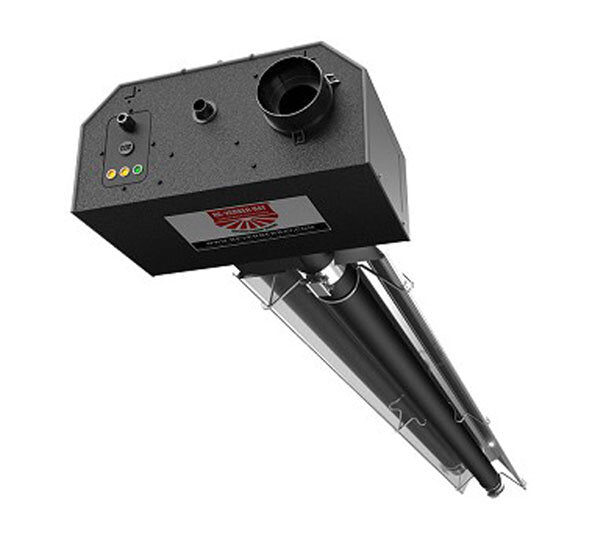 Re-Verber-Ray LD3-15-50, Gas-Fired Low Intensity Tube Heater 50,000 BTU; Two Stage
Re-Verber-Ray LD3-15-50 Low Intensity Tube Heater
Input Range: 50,000 BTU/h
Electrical: 120V, 60Hz, 1 Ph., 3-wire.
Lengths  16' - 10"
Gas Type: Natural or Propane
Two-stage gas valve

Product Series: Residential
Coated Titanium Treated Combustion Chamber
Limited Warranty: 1 year - Burner box components; 3 years - Combustion and radiant tubes; 5 years - Burner
PRODUCT INFO
The LD3 Series extends the energy saving benefits of two-stage technology to many commercial, industrial and residential applications. Designed for lower mounting heights, the LD3 Series is ideal for low ceiling commercial/industrial areas such as entry ways, mezzanines, lunch rooms and restaurant patios. Specific models are suitable in residential garages, enclosed swimming pools, solariums and porches.
Product Features
Input Range: 35,000 to 50,000 BTU/h
Gas Type: Natural or Propane
Gas Connection: 5/8 in. flare connecting to 1/2" NPT adapter to 1/2 in. x 24 in. (304) SS flex connector provided. 1/8"F NPT ball valve & inlet tapincluded.
Electrical: 120V, 60Hz, 1 Ph., 3-wire.
Control Amps: 4.8A Starting, 1.1A Running
Two-stage Technology.
Pre and post purge controls.
Tool-free access to controls.
Serviceability while unit is operating.
Separated air and gas burner chamber.
Symmetrical placement of ignition tube.
Hinged control compartment provides ease in servicing.
3-piece independent compartment cover.
ABS plastic air intake collar for connection to 4" PVC/DWV pipe.
Reflector
Highly polished aluminum.
Continuous overlap design.
Two end caps included.
Anti-rattle tension springs.
One center support per reflector
Benefits Of Heating With Infared
Superior Comfort
Indoor Air Quality
Reduced Energy Consumption
Flexibility
Durability
Radiant Efficiency

SPECIFICATIONS


LD3-15-50







Gas Type


Natural or Propane


Electrical


120V, 60Hz, 1 Ph., 3-wire


Control Amps


4.8A Starting,
1.1A Running



High Fire


50000 BTU/h


Low Fire


35000 BTU/h


Weight (lbs)


85


Straight Length


16' - 10"



U-Tube Length


N/A



Clearance to Combustibles



Front: 11"




Behind: 11"




Top: 6"




Below: 48"


Recommended Mounting Heights and Coverages


Recommended Mounting Height


10' - 15'



Coverage Area Straight Config.


22' x 15'



Coverage Area U-Tube Config.



N/A



Distance Between Heaters (ft.)


20' - 30'



Distance Between Heater Rows (ft.)


30' - 50'



Max. Distance Between Heaters and Wall (ft.)


18'