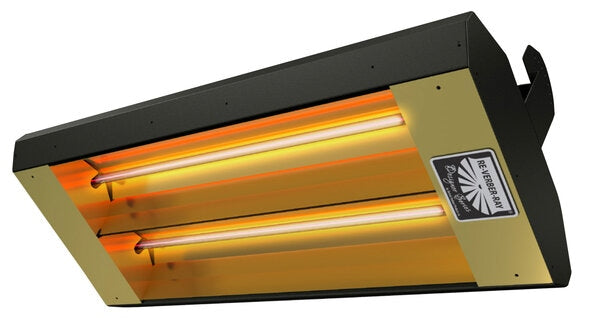 Re-Verber-Ray, MW2-24-2 Medium-Wave Electric Infrared Heater; 5,118 BTU
Medium-Wave Electric Infrared Heater
BTU/h input: 5,118
Electrical: From 120 to 240 Volts (See Options Buttom Below)
Watts: 1,500

Series: MW2
Lamp Quantity: 2

Housing: Black Powder-coated Aluminized Steel or Stainless Steel for Added Durability and Corrosion Resistance (See Options Buttom Below)

Lamp Elements: Coiled Tungsten Filament in a Sealed Quartz Tube w/ Porcelain End Caps
Certifications & Approvals: ETL Listed Indoor & Outdoor Commercial, and Outdoor Residential
Limited Warranty: 1 year (All Components)
PRODUCT INFO
The MW2 Series features a sleek, compact enclosure capable of housing single, dual or triple lamp options that produce a wide, symmetrical heat pattern. With an assortment of casings, lamp sizes, voltages, and wattages, this heater can easily be customized to provide a practical solution for your needs.
Product Features
BTU/h input: 5,118
Electrical: From 120 to 240 VAC
Watts: 1,500
Series: MW2
Lamp Quantity: 2
Lamp Elements
Coiled nichrome filament housed within a sealed quartz tubing.
Stainless Steel end caps.
Instantaneous heat-up & cool-down.
Opaque quartz.
Controls
Reflectors
Gold colored, anodized aluminum reflectors reduces visible light glare.
Wide, symmetric design.
Approvals
ETL Listed for indoor and outdoor commercial, outdoor residential
CSA 22.2 #46 - M1988.
UL 2021, 1997
Benefits of Heating With Electric Infrared
Superior Comfort
Reduced Energy Consumption
Durability
Even Heat Distribution
Outdoor Tested & Approved
Long Lamp Life Expectancy
SPECIFICATIONS
| | | | |
| --- | --- | --- | --- |
| | MW2-24 | | |
| | BTU/h | | 5,118 |
| | Electrical | | 120 to 240 VAC |
| | Control Amps | | 6.2 to 12.5 Amps |
| | Watts | | 1,500 |
| | Overall Unit Length Inches | | 24 in. |
| | Weight (lbs) | | 20 |


Series


MW2-24


Lamp Quantity


2


Recommended Mounting Height* [DIM A]


7 to 9 ft.


Recommended Distance Between
Heaters [DIM B]


3 to 9 ft.



Approx. Coverage [C]


200 sq. ft.


Approx. Watts [C]


per Sq. Ft.: 8




per Sq. M: 0.7
Clearances to Combustibles in Inches


Mounting Angle


Side


End


Top


Below




Front


Behind








0°


22


22


22


6


81














45°


81


4


22


10


81